Despite watermelon being almost 92% water, it's loved by many and a perfect snack for the summer. But what many don't know is, watermelon actually has health benefits!
Watermelon is:
a low-calorie food, with only 46 calories per cup
a high in Vitamin C (21% of the daily intake) and Vitamin A (185 of the daily intake)
able to help lower blood pressure
With these benefits, watermelon is a perfect snack to keep on hand. But it doesn't have to be just a snack. Celebrate National Watermelon Day with this delicious recipe! Enjoy!
---
Watermelon Salad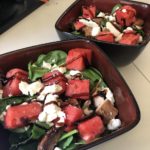 Ingredients
1 cup Baby Spinach
1/2 cup watermelon
1/4 cup feta cheese
6oz. chicken breast, cooked (can be swapped for vegetarian or vegan alternative)
Balsamic Glaze, for drizzle
In a bowl, add spinach, watermelon, feta cheese and chicken. Repeat the process by adding layers. The trick to a good salad is to repeat the layers so you get to enjoy all the individual flavors. Once your salad is complete, add the Balsamic Glaze and enjoy! Voila!